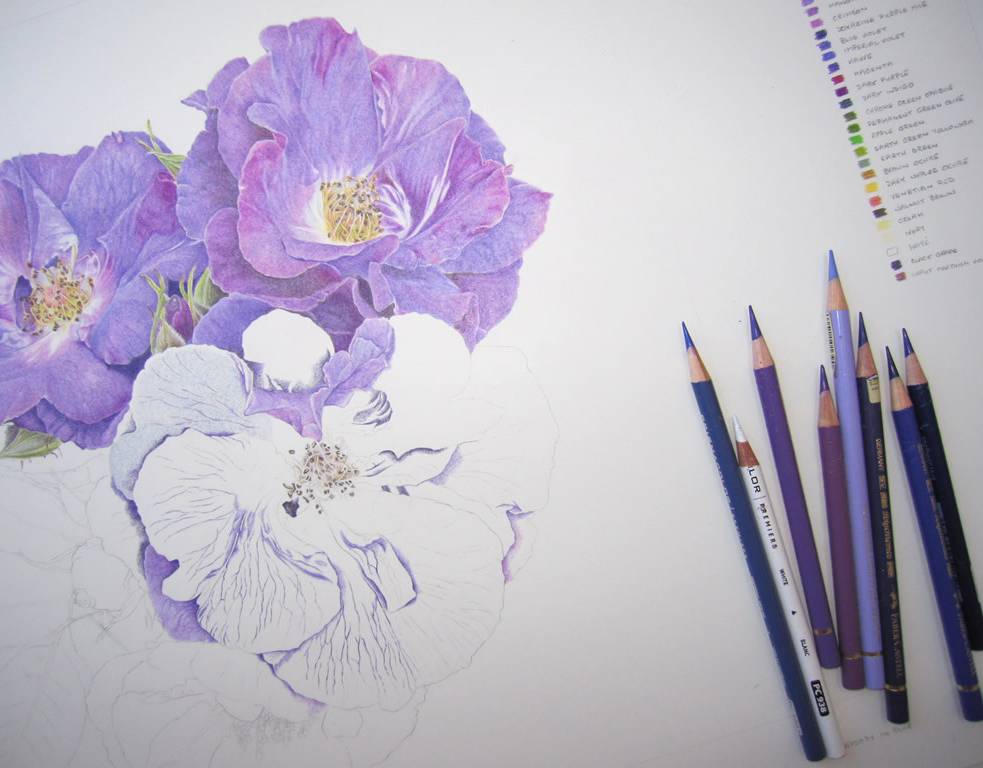 Workshops & Courses
Workshops 2021

HIGHAM HALL - Bassenthwaite, The Lake District
Botanical Still Life using mixed media
3rd - 8th October, 2021
Learn how to create amazing artwork with something botanical as your main subject. Then add a pot, a plate, a folded cloth, a vase, or anything else that takes your fancy, to make a picture you'll be proud of. You could choose a bowl of fruit on a tablecloth, or some grapes with a glass of wine, some fresh vegetables on a chopping board with a kitchen knife - the list is endless! Backgrounds can also be added if you wish.
The exciting thing is you can choose your medium; coloured pencils, water-based coloured pencils (a new favourite of Janie's) or watercolours with pencils added over the top. This is going to be a really exciting and experimental course where you can try new things.
Pure botanical illustration is also included in this cornucopia of subjects and mediums.
To book contact: https://www.highamhall.com or email at: admin@highamhall.com
ELM FARM STUDIOS, Coggeshall, Nr Colchester
Tuesday 12th & Wednesday 13th October, 2021 (This is a one-day workshop so book either date.)
Animals, Pets and Birds with Janie Pirie SBA RHS/GM UKCPS
If you have ever wanted to draw your pet, or a cute little animal, but don't know how to make them look real then this is the perfect workshop to find out. Using coloured pencils you will be shown how to make eyes look bright and shiny, fur to look amazingly realistic and 'touchable', your subject to look three-dimensional and better than a photograph.
You will be shown all the 'tricks of the trade' using various tools as well as how to use your coloured pencils to get the effect you want.
For this workshop you will need a really good photograph of your chosen subject, so you can see all the details. To book click on the link below.
https://alexandrawaylett.com/product/your-favourite-animal-pet-with-janie-pirie-botanical-artist/
TINDALLS, King Street, Cambridge
Portraits from Photographs
Saturday 2nd October, 2021
The best portraits are, naturally, drawn from life but this is impractical on a one-day workshop. However, working from a photograph is still a great way to learn how to approach the most important elements of drawing people. Eyes, noses and mouths are the three most important features of the human. Making eyes look round and bright, noses that don't look flat and mouths that have shape and plumpness are areas requiring a gentle and delicate approach. The skin, ears and hair are also part of the complete package so these areas will be covered too.
On this workshop you will be shown how to use your coloured pencils to obtain realism with the guidance of your tutor, Janie Pirie, one of the UK's leading coloured pencil artists. Using the beautiful Polychromos range of pencils you will learn how to obtain gentle gradations of colour, crisp, clean edges and fabulous depth of colour. To book your place click on the link below.
www.tindalls.co.uk

COMING in 2022

HIGHAM HALL - Bassenthwaite, The Lake District
Botanical Still Life
Sunday 30th January - Thursday 3rd February 2022
Learn to accurately draw and colour botanical subjects using coloured pencils and 'anchor' your illustration by inserting shadows to make it a Still Life. There will be group demonstrations was well as lots of individual tuition throughout the course. Subjects could be any of the following (or you can bring something else): grapes, tangerines, apples, nuts, asparagus, pakchoi, fennel, flowers, winter shrubs, beautiful leaves - an endless variety, even in Winter.
To book your place go to: https://www.highamhall.com or email: admin@highamhall.com

Drawing a Bird or Animal
Thursday 3rd - Sunday 6th February 2022
Draw a bird or animal of your choice from a photo. (If you bring your own please ensure it is a clear, detailed picture). A selection of images will be supplied. Following demos, transfer to good paper and then colour step-by-step. Individual tuition and group demos throughout the course. Draw a stunning piece to be proud of.
To book contact: https://www.highamhall.com or email: admin@highamhall.com
Treasures of the Summer Garden
2nd - 7th June 2022


The early summer garden is full of the most amazing subjects, so come and join me for a relaxing few days in the stunningly beautiful location of Higham Hall in The Lake District. I will show you how to draw, how to transfer your drawing to good quality art paper and how to use coloured pencils to make your work look totally realistic and 'alive' on the paper.
To book contact: https://www.highamhall.com or email at: admin@highamhall.com

Private one-to-one or group tuition

If you would like private tuition at any time throughout the year in the UK please email Janie at art@janiepirie.co.uk

Demonstrations/Tuition to Groups and Art Clubs
The exact title/choice of topic can be discussed.
£200.00 for a full day (10.00am - 4.00pm)
£125.00 for a half-day or evening. (3 hours)
Travel is charged at 45p per mile.

For bookings and further information please phone 01473 311970 or email art@janiepirie.co.uk
NEW - Learn in your own home, at your own pace by joining my Patreon group. I'm posting regular real-time videos for all my patrons so you can work when you want, were you want. Each video shows you in a step-by-step manner, how to colour some beautiful images to create your own pieces of artwork. It's all very exciting, both for me and my patrons because it means you can still learn how to start, or improve your coloured pencil techniques at a pace to suit you. Check it out - you've got nothing to lose!
https://www.patreon.com/janiepirie
https://youtu.be/GX2AWzKvCKw Part of a video for you to watch in time-lapse mode.