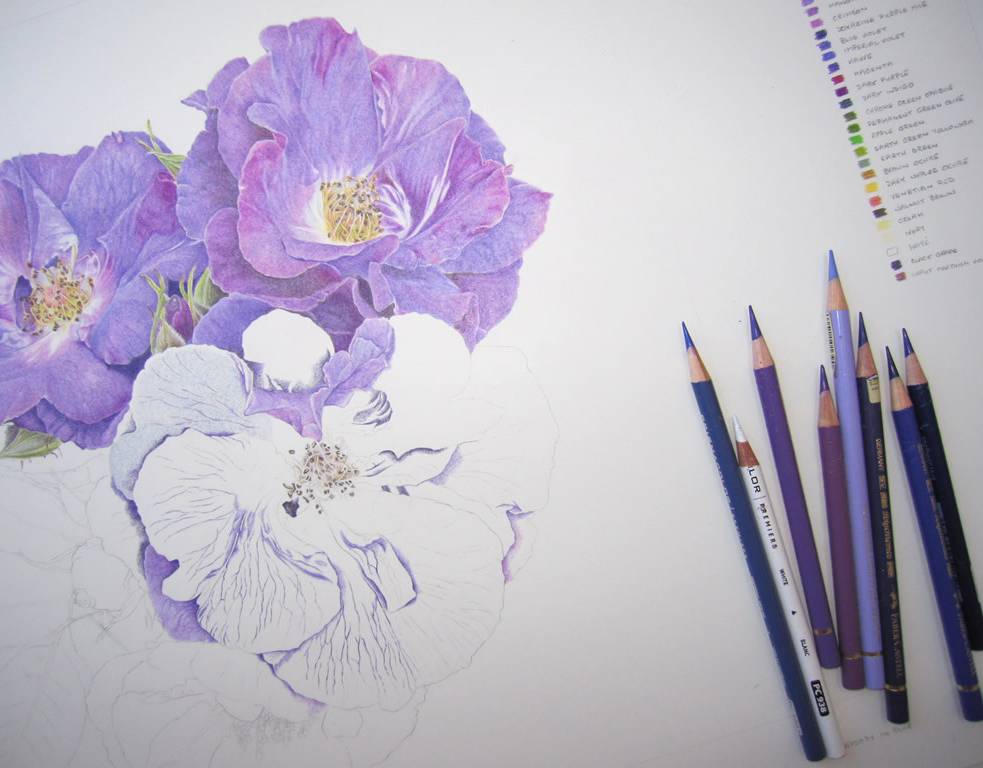 Workshops & Courses
Dates for 2018

MAY:
9th – 11th - Tindall's - Colchester
Birds and Feathers in Coloured Pencil THREE PART
The art of drawing birds is not to draw every feather. You will be shown how to capture your chosen subject to make it look incredibly life-like and three-dimensional. A good quality photograph will be required. There are lots of Bird magazines available with incredibly photography so finding a bird you like should be easy. Of course, you can take your own photograph but be sure it's clear and big enough for you to copy.
www.tindalls.co.uk

25th - Tindall's - Colchester
Knitted Garments and Textures in Coloured Pencils
It's easy to tackle blocks of colour but sometimes more texture is needed to show what type of material is being illustrated. On this workshop you will learn how to approach a variety of different materials and textures to make them look very realistic.

JUNE:
8th - Butterfly Studios, Terling, Nr. Hatfield Peverel
Illustrating Summer Fruits
Learn how to draw and colour simple summer fruits with award winning artist Janie Pirie. Janie will teach you how to choose the right colours, blend colours and make your subjects look really 'touchable' and three-dimensional.
Janie will also show you the secret of how to make your summer fruits look amazingly juicy.
www.artandcraftdays.co.uk

9th & 10th - RHS Hyde Hall, Nr. Chelmsford
Rose Weekend
Janie will have a stand at this two-day show where she will be demonstrating how to draw roses as well as selling her originals, prints and cards. There is also a 3-hour private workshop for anyone wishing to learn in detail how to draw a rose and colour it using Janie's favourite medium, coloured pencils. Please go to the Hyde Hall web site for details and booking information.


12th & 13th - Tindall's - Colchester
Tropical Fish in Coloured Pencils
The colours of tropical fish are incredible so come and draw and colour a little fish that has dynamic patterns or colours. You will be able to find a multitude of tropical fish images on the internet or in magazines. Choose something that's beautiful and bright and Janie will show you how to capture it to make it look believably three-dimensional.
www.tindalls.co.uk

18th – 23rd - Higham Hall, Nr. Keswick, Cumbria
Illustrating Roses
A botanical course to show beginners how to illustrate roses using coloured pencils, from the very basic first steps of drawing, through choosing the right colours, then using them to create beautiful and amazing results. Individual tuition and group demonstrations throughout from an RHS gold award-winning pencil artist!

JULY:
3rd – 5th - Cambridge University Botanic Gardens
Illustrating Garden produce
July vegetable gardens are usually overflowing with produce. However, the beauty of so many vegetables goes unnoticed on their way from garden to plate. This workshop will give you the opportunity to discover them in depth as you draw and colour them in detail using coloured pencils. Janie has won many awards for her illustrations of vegetables and will share her knowledge as she takes you through the process of making an accurate drawing followed by all the techniques required to colour your work and make it look amazingly realistic and three-dimensional. Succulent peas dripping with dew, amazing red veined beetroot leaves, crinkly lettuce – the list goes on. Whatever your choice you will be amazed at the beauty of the humble vegetable. Group and individual tuition will be given throughout the course.
education@botanic.cam.ac.uk

6th - Butterfly Studios, Terling, Nr. Hatfield Peverel
White & Pale Flowers
Learn how to illustrate white flowers on a white background. It's not quite as difficult as you would think. You will be shown how to colour gentle shadows to create soft and delicate white and pale coloured flowers using coloured pencils. Lisianthus, lilies and daisies are just some of the wonderful selection available at this time of the year so there will be no shortage of subjects for you to choose from.
11th – Tindalls, Colchester
Learn How To Draw

There are so many classes where you can learn about painting or colouring with pencils but this class will focus entirely on drawing. No experience necessary! Everyone can draw if they stop telling themselves they can't. Come and find out – you'll surprise yourself!
www.tindalls.co.uk

23rd – 25th - Tindall's - Colchester
Still Life in Coloured Pencil
On this workshop Janie will bring along a few items and set them up in the centre of the table so you can all draw the same subject but from different angles. This is an interesting approach to still life and produces a whole host of different pictures. The likely subjects will be some fruit in a bowl or on a plate, possibly sitting on a piece of cloth and maybe with another compatible item. The items will be fairly simple shapes so the drawing can be done quickly, leaving enough time to complete the piece within the three days.
SEPTEMBER:


18th & 19th - Tindall's - Colchester
Butterflies
These beautiful insects are delightful to capture on paper using coloured pencils. Working from a photograph you will be shown how to choose the right colours and then use the right methods to create the beauty and texture of your chosen butterfly. Bring a picture of your own if you want but some will be provided.


28th – 30th - Flatford Mill, Dedham
Drawing and Colouring Portraits from Photographs
Using coloured pencils this course is for students who wish to draw a portrait from a photograph. It could be a grandchild, a partner, or just a face you find interesting and inspiring. Janie will show you how to copy your photo and colour it to bring it to life on your paper. She will show you how to create skin tones of all shades, how to make eyes sparkle and how to tackle drawing hair. She will also show you how to achieve fine details like eyebrows, eyelashes and blemishes. Your subject can be old or young – as long as you find it interesting. Bring a good quality photograph and ensure your subject is large enough for you to see all the details. An A4 size or larger is best. Crop your photo if necessary as you don't want to waste the paper with loads of background.

OCTOBER:

2nd - Tindalls, Colchester
4' x 4" Landscapes using Coloured Pencils & Fine Pens

Another chance for you to create a small picture of your choice using coloured pencils and fine ink pens. You will need a picture of a favourite bit of landscape or you can pick from photographs provided by the tutor. The most interesting pictures have water, hills, old buildings and trees. At the end of the day you will have a picture to be proud of.

9th & 10th - Art & Craft Days at The Butterfly Studios, Terling

Drawing and colouring Birds & Feathers or Furry Creatures – Two day workshop.

Come and learn how to draw birds and feathers using coloured pencils with award-winning coloured pencil artist Janie Pirie. Janie will show you how to colour birds to make them look amazingly realistic without the need to try and draw every feather. You may wish to try your hand at just one beautiful feather – Janie will show you how to make it look totally believable.

If you prefer to learn how to tackle drawing furry or hairy creatures to make them look realistic then Janie will also be showing students how to make eyes look bright and fur or hair to look amazingly real and touchable.


16th – 18th Cambridge University Botanic Gardens
Illustrating Birds
Drawing and colouring birds is easier than you think because you don't have to draw every feather to make them look realistic. Your tutor will show you how to approach these complex creatures and make a drawing that will come to life on your paper using coloured pencils. Janie has created some stunning pieces of work over the past few years and her knowledge will be shared with group demonstrations and individual tuition throughout. For this course a high-quality photograph will be required. If you haven't one of your own then look through the bird magazines to find something you like. The artists' challenge is to copy the photograph and make it look 'alive' and three-dimensional by observing light and shade in detail.

19th - Cambridge University Botanic Gardens
Beginners
This workshop is a chance for anyone wanting to step into the wonderful world of botanical illustration using coloured pencils. Watercolour has proved quite 'scary' to many budding artists but the coloured pencil is a more controllable medium and lends itself perfectly to botanical illustration. Janie Pirie, your tutor, has been awarded two RHS Gold Medals for her illustrations using CPs and will share all her secrets with you. Leaves will be the subject for this one-day course but they can be green leaves or autumn leaves, whatever you prefer.
Faber-Castell Polychcromos:

278 Chrome Oxide Green
174 Chrome Green Opaque
167 Permanent Green Olive
168 Earth Green Yellowish
170 May Green
172 Earth Green
205 Cadmium Yellow Lemon
103 Ivory
105 Light Cadmium Yellow
194 Red-Violet
169 Caput Mortuum

Prismacolor:

911 Olive Green

1005 Limepeel
938 White

1078 Black Cherry
1095 Black Raspberry
996 Black Grape
24th – Tindalls, Colchester
Colouring Moths with Coloured Pencils

Moths are so much more beautiful than we give them credit for. Yes, butterflies tend to be more colourful and flamboyant, but there are some truly lovely moths that deserve the artists' attention. Working from a photograph you will be shown how to capture the textures and details of moths with delicate touches of coloured pencils. Photographs will be provided but please bring your own if you have a favourite.
www.tindalls.co.uk

NOVEMBER:

8th - Tindall's, Colchester
Creating Realistic Raindrops using Coloured Pencils
So many people stand in awe at beautiful pieces of art that show raindrops that really look like water. They're not as difficult to draw and colour as you think. This workshop will show you how to make yours look real on various surfaces including leaves, petals, cloth, paper etc.

27th - Tindall's - Colchester
Drawing and colouring Pebbles

We crunch across them every time we visit a beach but taking a really good look at them reveals some amazing colours, shapes and textures, from very shiny to dull and rough. This workshop will give you the opportunity to gather together a small group of pebbles and colour them to make them look realistic and three-dimensional.

Private one-to-one or group tuition

If you would like private tuition at any time throughout the year in the UK please email Janie at art@janiepirie.co.uk


Demonstrations/Tuition to Groups and Art Clubs

The exact title/choice of topic can be discussed.
£175.00 for a full day (10.00am - 4.00pm)
£100.00 for a half-day or evening. (3 hours)
Travel is charged at 45p per mile.


For bookings and further information please phone 01473 311970 or email art@janiepirie.co.uk